The VPro™ Series is a high frequency vibration product line used to accelerate orthodontic tooth movement in just 5 minutes a day. Kick back and relax while VPro™ delivers gentle vibrations designed to complement your treatment plan.
The Buzz About High Frequency Vibration
High frequency vibration is a simple, five-minute treatment used by dental professionals across the globe. When combined with aligner therapy, VPro™ :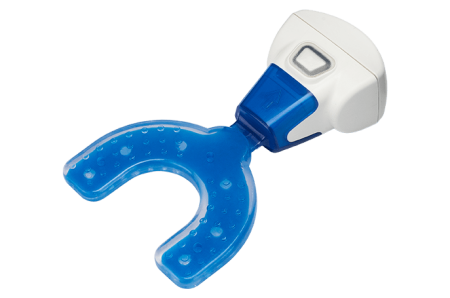 *over not using the device
Frequently Asked Questions
Results Worth Smiling About
Here's What People Are Saying
I've been using the VPro for 8 weeks already, and it has made such a difference. I love the results so far.

Dot

Patient
If someone told me they were getting aligners, I would tell them they should definitely have the VPro. It helps with the discomfort and it's simple—five minutes a day.

Hannah

Patient
Omg I am so grateful for you the VPro is a game changer!! I swear it has made the whole process a breeze.

Lexy

Patient
I have actually been surprised how quickly I can see results with the VPro. It's so effortless and it's so easy to do, to just have that in your mouth for a few minutes a day.

Coco

Patient
In accordance with the FTC guidelines concerning use of endorsements and testimonials in advertising, please be aware of the following:

• Testimonials appearing on this site are received in various forms via a variety of submission methods. They are individual experiences, reflecting real life experiences of those that have chosen to use the VPro™ device under the supervision of their dental professionals. However, they are individual results and results may vary. We do not claim that they are typical results that patients will generally achieve, nor should the reader assume, that any individual experience recounted is typical or representative of what any other patient might experience. The testimonials are not necessarily representative of all those who will use the VPro™ device. The patients and doctors giving testimonials on this site may have been compensated for use of their experiences.

• The testimonials presented on this site are applicable to the individuals writing or making such statements, and may not be indicative of the future outcomes for prospective patients or practices. Dentsply Sirona cannot and does not guarantee specific outcomes or outcome metrics. Dentsply Sirona is not responsible for the opinions or comments posted on this site, and does not necessarily share the opinions, views or commentary of postings on this site.

• The testimonials displayed (text, audio, and/or video) are given verbatim except for correction of grammatical or typing errors. Some have been shortened, so that the whole message received by the presenter is not displayed. This is done only when a testimonial is lengthy or if the entire testimonial did not seem relevant for the general public.